ASTM A 106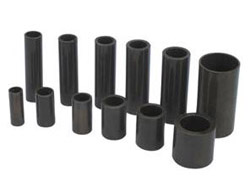 Name: ASTM A106 Seamless Carbon Steel Tubes
Size (mm):
O.D.: 6.0∼180; W.T.: 1∼30; L: max 12000
Description:
★ Standards: ASTM A106 (ASME SA106).
★ Applications: bending, curling and similar forming processes.
★ Available steel grades: A, B and C.
★ Specifications:
Diameter 10.3 to 114.3 mm;
Thickness 0.8 to 12 mm;
Length: 6 m and above;
in order to meet customers' different demands,we will supply other specifications of steel pipes.

Click PDF for more detail
Carbon Steel Pipe Features Specifications:
OD(mm)
Wall Thickness Unit(mm)
 
2
2.5
3
3.5
4
4.5
5
6
6.5-7
7.5-8
8.5-9
9.5-10
11
12
Φ25-Φ28
●
●
●
●
●
●
 
 
 
 
 
 
 
 
Φ32
 
●
●
●
●
●
●
 
 
 
 
 
 
 
Φ34-Φ36
 
●
●
●
●
●
●
 
 
 
 
 
 
 
Φ38
 
●
●
●
●
●
●
 
 
 
 
 
 
 
Φ40
 
 
●
●
●
●
●
 
 
 
 
 
 
 
Φ42
 
 
●
●
●
●
●
 
 
 
 
 
 
 
Φ45
 
 
●
●
●
●
●
●
 
 
 
 
 
 
Φ48-Φ60
 
 
●
●
●
●
●
●
●
 
 
 
 
 
Φ63.5
 
 
 
●
●
●
●
●
●
●
 
 
 
 
Φ68-Φ73
 
 
 
 
●
●
●
●
●
●
 
 
 
 
Φ76
 
 
 
 
●
●
●
●
●
●
●
●
●
●
Φ80
 
 
 
 
●
●
●
●
●
●
●
●
●
●
Φ83
 
 
 
 
●
●
●
●
●
●
●
●
●
●
Φ89
 
 
 
 
●
●
●
●
●
●
●
●
●
●
Φ95
 
 
 
 
●
●
●
●
●
●
●
●
●
●
Φ102
 
 
 
 
●
●
●
●
●
●
●
●
●
●
Φ108
 
 
 
 
●
●
●
●
●
●
●
●
●
●
Φ114
 
 
 
 
 
●
●
●
●
●
●
●
●
●
Φ121
 
 
 
 
 
●
●
●
●
●
●
●
●
●
Φ127
 
 
 
 
 
●
●
●
●
●
●
●
●
●
Φ133
 
 
 
 
 
●
●
●
●
●
●
●
●
●
Φ140
 
 
 
 
 
 
●
●
●
●
●
●
●
●
Φ146
 
 
 
 
 
 
●
●
●
●
●
●
●
●
Φ152
 
 
 
 
 
 
●
●
●
●
●
●
●
●
Φ159
 
 
 
 
 
 
●
●
●
●
●
●
●
●
Φ168
 
 
 
 
 
 
●
●
●
●
●
●
●
●
Grade and Chemical Composition
| | | | | | | | | | | |
| --- | --- | --- | --- | --- | --- | --- | --- | --- | --- | --- |
| Grade | C≤ | Mn | P≤ | S≤ | Si≥ | Cr≤ | Cu≤ | Mo≤ | Ni≤ | V≤ |
| A | 0.25 | 0.27-0.93 | 0.035 | 0.035 | 0.10 | 0.40 | 0.40 | 0.15 | 0.40 | 0.08 |
| B | 0.30 | 0.29-1.06 | 0.035 | 0.035 | 0.10 | 0.40 | 0.40 | 0.15 | 0.40 | 0.08 |
| C | 0.35 | 0.29-1.06 | 0.035 | 0.035 | 0.10 | 0.40 | 0.40 | 0.15 | 0.40 | 0.08 |
Mechanical Properties:
| | | | | |
| --- | --- | --- | --- | --- |
| Grade | Rm Mpa Tensile Strength | Mpa Yield Point | Elongation | Delivery Condition |
| A | ≥330 | ≥205 | 20 | Annealed |
| B | ≥415 | ≥240 | 20 | Annealed |
| C | ≥485 | ≥275 | 20 | Annealed |
Dimension Tolerances:
Pipe Type
Pipe Sizes
Tolerances
Cold Drawn
OD
≤48.3mm
±0.40mm
≥60.3mm
±1%mm
WT
±12.5%